Dan Radcliffe Talks About Equus, Films Six and Seven, More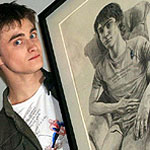 Aug 13, 2006
Uncategorized
In a new interview in the Australian Herald Sun, actor Daniel Radcliffe discussed his character's nudity in his upcoming play Equus, the possibility that Harry will die in Book Seven, whether or not he will return as Harry in Harry Potter and the Half-Blood Prince, and his new film, "The December Boys."
Regarding Equus, he said,
"All the other actors who have ever played the part have done that [appeared nude], so for me not to do it wouldn't really be playing the part . . . It would be a watered down version. It wouldn't be the same."
"I'll be incredibly nervous, but I think, 'it's in the script; it's got to be done'. I'm terrified, but excited."
As to playing Harry in HBP, Dan remarked:
"I don't know. . . But the sixth book is fantastic and if the script is good and does it justice, then it would be foolish to turn it down."
Regarding Harry's survival in Book Seven, Dan says this:
"I've had talks with [J.K. Rowling], but not about that . . . I don't know anything that's going to happen in the seventh film. I hope it will be very, very good and I'll go with whatever. I think it will be quite exciting really. It may be the only way (the arch villain) Voldemort could be killed is if Harry dies as well because there is that very strong connection between them."
Finally, about his new film "The December Boys," Dan notes this about his Aussie accent:
"You've yet to hear it, I know . . . You will eventually when you see the film. It was just great to do a film in a different country, new crew, new character. It was incredibly refreshing and exciting and a whole new experience and challenge for me."
You can see a scan of the article here.
Thanks very much to Page from DanRadcliffe.co.uk and their reader Sharron in Australia!