Confirmed: Bonham Carter, Hooper for Phoenix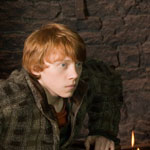 Aug 02, 2006
Today, Warner Brothers officially announced that composer Nicholas Hooper would provide the score for Harry Potter and the Order of the Phoenix. As previously reported, Mr. Hooper replaces Patrick Doyle for the fifth film. Nicholas Hooper has worked with Phoenix director David Yates before on films such as The Girl in the Cafe, and State of Play.
Also, WB has confirmed that actress Helena Bonham Carter will join the cast in the role of Bellatrix Lestrange. As we told you previously, Helena Bonham Carter is known for her work in films such as A Room with a View, Howards End, and recently Wallace & Grommit: Curse of the Were-Rabbit. Ms. Bonham Carter recently spoke with Time Magazine where she said she is getting ready to film her scenes as the Death Eater.
Can you tell us anything about the next Harry Potter movie?

I'm Bellatrix Lestrange. She's a witch, a torturer. I go for the teeth fitting tomorrow.