Cast Watch: Sexy Isaacs, Rocking Thewlis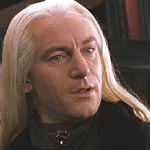 Aug 20, 2006
Uncategorized
There are several pieces of news about some of the adult actors from the Harry Potter films.
First, the September issue of In Style magazine highlights their annual "What's Sexy Now" feature; this year includes Jason Isaacs as part of the "U.K. Bad Boys." Of Jason, who will be seen again in Order of the Phoenix, the magazine writes:
"MAKE VILLAINY POSH. Jason Isaacs can play pernicious with countless inflections, whether bumping off Heath Ledger in The Patriot or sneering down his aquiline nose as Lucius Malfoy in the Harry Potter series. But the 43-year-old Liverpudlian also played Mr. Darling in Peter Pan. So, really, how bad can he be?"
Also, actor David Thewlis recently attended the V Festival over the weekend, and enjoyed some great music with his partner Anna Friel at the rock festival in England. You can see new photos of David here in our galleries. David will return as Remus Lupin in Harry Potter and the Order of the Phoenix. Thanks for the pics T!