Display of JKR Handwritten Chapter to End Soon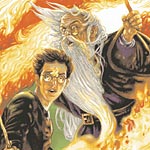 Aug 23, 2006
Last August, we first told you that a handwritten draft of chapter six from Harry Potter and the Philosopher's Stone would be on public display at the Seven Stories Centre in the UK. The Journey from Platform Nine and Three Quarters draft from J.K. Rowling will now soon be pulled from exhibit, reports the website, as the museum makes way for a new exhibit this fall.
"Elizabeth Hammill, co-founder and collections director at Seven Stories, said: "We've been incredibly lucky to have the original Harry Potter manuscripts from JK Rowling, and they've been very popular with visitors old and young.The manuscripts are from Harry Potter and the Philosopher's Stone and show how J K Rowling set out paragraph 7 The Sorting Hat, introduced new characters, played with ideas and a draft manuscript of Chapter 6 The Journey from Platform nine and three quarters.

"Making original manuscripts like this accessible to the public is very important as it brings realness to their books and inspires new work. Authors make mistakes like you and I, doodle on the pages as they try to find inspiration and leave watermarks from their tea and coffee.â€
Last year, the BBC also ran a story on this, and included a photo of the work from JKR, here. If anyone attended this centre and has photos, please send them in!