Rupert Grint Talks Driving; Back for Half-Blood Prince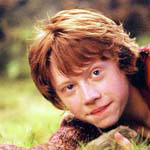 Aug 24, 2006
Uncategorized
The Daily Record has a new interview today with actor Rupert Grint who discusses his role as Ron Weasley in the Harry Potter movies, as well as his new film, Driving Lessons. Rupert, who is currently celebrating his 18th birthday, discusses his age for the final two Harry Potter films, including Half- Blood Prince.
"…has been signed up to star in the sixth film, Half-Blood Prince, which is scheduled for November 21, 2008, when Rupert (above right) will be 20.

The arrival of the final, seventh, unnamed flick depends on when JK Rowling finishes the book, and could see Rupert aged 21 or even 22 – but still playing a schoolboy.

But the world's most famous ginger-haired star said: "I want to do all seven and hopefully that'll happen.

"It'll be weird when it's all finished because it's been a huge part of my life. I started when I was 11 and I'm 18 now."
Rupert will attend the screening this Saturday in Edinburgh of his new motion picture, Driving Lessons, which co-stars Julie Walters who will be seen again as Molly Weasley in the upcoming Order of the Phoenix.
"It's quite a scary thing coming on to a new set. On Potter I'm used to the same crew and the same people. So it was nice Julie being there as a friendly face. She's really funny. "I found it even harder than usual to keep a straight face. I've quite a big problem with laughing and corpsing in front of the camera and she'd just make me laugh."
To see a new trailer from Driving Lessons, click here. For more on the interview with Rupert, including talk about his real life driving lessons, click here.