Fan Meeting with J.K. Rowling at Radio City Music Hall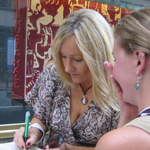 Aug 09, 2006
Uncategorized
The story of two lucky fans from California who meet J.K. Rowling at Radio City Music Hall last week has been published in the EdhTelegraph. The article, which includes a new photo of Jo getting out of her limo, details their encounter, which also included getting an autograph from our favorite author.
"Joey was the third in the crowd to have his book signed, which was the first Harry Potter book he ever owned and read, a first American edition of the Sorcerer's Stone," continued Pacific. "Amanda was further back in the crowd, so she passed up to Joey her program from the previous evening's performance, which Jo Rowling then also signed." "I talked to her for about 20 seconds. She was thanking everyone," Joey said, adding he has no plans to sell the well-worn book. "I've read it over and over again."
Anyone who was lucky enough to meet Jo, please send in your pics!
Editors Note: For a errm rather squeeful story about this editor's lucky chance meeting with JKR, be sure to check out our LeakyMug podcast from New York City which should be up soon!