Leaky Mug Hits California!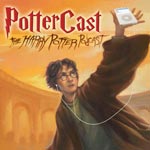 Sep 01, 2006
Uncategorized
The next live Leaky Mug, the joint podcast that PotterCast and MuggleCast produce on special occasions, will be on September 28, at Borders in Westwood, located at 1360 Westwood Blvd. in Los Angeles. It will start at 7 p.m. sharp, so we hope to see you there for some fun Harry Potter discussion and more.
We once again need an idea of how many of you are coming, so please visit LeakyMug.com and follow instructions on the page in order to let us know you're planning on being there! Once again, this doesn't guarantee seats, but it does guarantee we can plan accordingly and therefore makes everyone happier.
For our younger listeners: We're aware this is a school night, and have made the show as early as possible to accommodate this. Our schedules in California are such that we only have weekdays available; the show should be over by about 8:30 p.m., which we hope is enough time to get you home for school/work in the morning!
Can't wait!