Rupert Grint: "No One Really Dies in Harry Potter"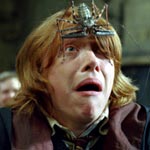 Sep 10, 2006
Uncategorized
Two more Rupert Grint interviews have now surfaced in conjunction with the release of Driving Lessons. The first interview is seen the new Total Film magazine, and we now have the scans for you in our galleries, here. In this short piece, Rupert answers the question about the future of his role in the Harry Potter films, and about his character Ron Weasley. He also has funny answer to the question on if he would win if he fought Dan Radcliffe. Quotage:
Will you carry on as Ron till the bitter end?
"I'd like to, definitely. I've no idea what'll happen to Ron. It'd be good to die, I guess. But no one really dies in Harry Potter. You can always come back as a ghost or something."
…

Final Question: If you and Daniel Radcliffe had a fight, who'd win?
"I think me. Dan does work out a bit, but I'm bigger so maybe that'd give me the edge. We arm-wrestled once, and I beat him…"
Also, there is a second interview now at Empire online, where Rupert and Julie Walters (Molly Weasley) discuss their new movie, Driving Lessons. Rupert also address a question on what his future plans are. He says:
"I want to do something other than Potter, because there's quite a bit gap between films, but I don't know what yet."
Thanks to Emma-Watson.net!