New JKR Info to be Released in Special Edition Paperback in December from Bloomsbury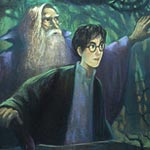 Sep 12, 2006
Bloomsbury, the UK publishers of the Harry Potter series, has announced that they will issue a special edition paperback of Harry Potter and the Philosopher's Stone in December, featuring a new introduction by author Alexander McCall Smith. This special paperback will be among 21 special paperbacks released as part of the company's 21st birthday celebration next year. Also, as reported by the Publishing News:
"…all 21 books will feature a question-and-answer with the authors, an introduction by fellow writers, and a reading guide."
We do not yet know to what extent the new information from author J.K. Rowling will include, and will update you with more on this, and an exact release date in December for this paperback as soon as we can.