More on Marketing for "Phoenix" Products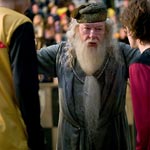 Sep 14, 2006
Uncategorized
Following what we have told you previously about upcoming movie tie-in merchandise, Warner Brothers Consumer Products said again at they will be targeting products tied in with the release of Harry Potter and the Order of the Phoenix for an older market. KidScreen Magazine reports:
"Character merchandise is moving outside of its traditional area of four- to nine-year-olds and is being adopted by tweens and teens," says David Binnie, general manager for Warner Bros. Consumer Products UK. WBCP will hit Brand Licensing 2006 with a new strategy for the uber-brand Harry Potter – and its fifth film Harry Potter and the Order of the Phoenix – to super-serve the growing demo. "As the characters in the films and the original audience of the books and movies grows older we will be segmenting the market," says Binnie.

The four to nine set will still be a focus, but WBCP is targeting tweens. "We'll be selecting partners who have a different formula, who may not have done character licensing before and who develop products that appeal to the demographic," notes Binnie. So staples such as t-shirts and stationery will be part of the mix, but they'll reflect the edgy and fashion-forward direction set out in the new Harry style guide. As such, the retail strategy for the program will target alternative outlets such as music retailers that attract older kids."
On a related note, earlier this summer we reported that NECA had landed the contract to produce Potter Phoenix products. The Cards, Inc. group has also announced they will handle the European side of the new agreement, and their website has a bit more additional information on the type of new products we can expect to see, including things such as magical creatures and even remote-controlled vehicles.
The Cards Inc. Group's range of product offerings inspired by the world of Harry Potter will include a wide selection of role-play action figures, action figure collector and box sets, Magical Creatures collector action figures, electronic role play sets, die cast and remote controlled vehicles and playsets. Product will be in store from June 2007 onwards.
No word if there will be Blast-ended Skrewts or Thestrals among the collection… 😉