Report: READ Magazine Says Book Seven Next July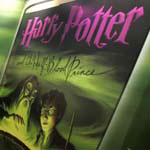 Sep 14, 2006
Uncategorized
On the heels of JKR's most recent update where our favorite author says she is still writing Book Seven, comes word today that the newest issue of READ magazine (which is not an official Scholastic 'zine) containing a blurb speculating about the release date of the last Harry Potter book. A teacher wrote us at Leaky to say that the magazine which is used in schools, contains the following quote:
"Next July, bookstores across the country will be stocking their shelves with the seventh and final installment of what may be the most popular book series of all time: Harry Potter."
Please note: Everyone, Jo herself said yesterday that she was still writing Book Seven, and this report should NOT be taken as an official confirmation of a release date. Nothing's official until Jo says so; you know the drill

Thanks J for the tip!