Hop on the Hogwarts Express Today at the Leaky Lounge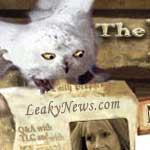 Sep 16, 2006
Uncategorized
All Aboard! The Hogwarts Express is making a stop today at our Leaky Lounge. Yes, that's right, not only is it back to school time, it's time for our September forum event, happening today from 11am till 7pm (EST). The fabulous train is making a stop for Leaky's own Witches and Wizards, and your ticket and itinerary for fun today includes:
Shopping for wands at Donivander's
Working on those back to school projects with our crafty witches!
Check out the Chatty Compartment, as the corner Booth will be open for your enjoyment!
Write The Sorting Hat's new song for this year, in a new Filk writing contest!
The Shieking Shack will be open for your entertainment and lots of gaming fun!
Help Mrs. Weasley get the kids packed and ready to meet the train!
So don't be late, as the Hogwart's Express revs up the fun in the Lounge today!