Child Magazine: J.K.Rowling One of 20 Who Changed Childhood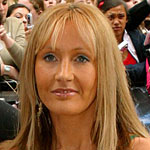 Sep 19, 2006
Uncategorized
Child Magazine has a special feature out now about 20 innovators "in the fields of education, entertainment, medicine, and more who forever altered what it means to be young in America." In a list which includes Walt Disney, Jonas Salk, Steve Jobs, The Beatles, and Dr. Seuss, Harry Potter author J.K. Rowling is ranked at number five. The magazine writes:
Before J.K. Rowling's bespectacled boy wizard went off to study at Hogwarts, some parents feared their kids would never enjoy reading. Once Harry Potter and the Sorcerer's Stone hit U.S. bookstores in 1998, followed by five more installments, parents found their kids couldn't get enough of Rowling's fantasy adventure novels, some longer than 600 pages. To date more than 300 million Harry Potter books have sold worldwide; they crowded The New York Times bestseller list for so long that the newspaper created a separate children's list. "The Harry Potter books not only sparked an explosion of interest in reading," says Lisa Von Drasek, the children's librarian at the Bank Street College of Education in New York City, "they inspired kids to go out and discover other great books too."
The editor of Child Magazine also appeared on NBC's The Today Show where she discussed Jo and this list. You can watch the video of this interview via this link (click on the part in the middle of the page where it says "Who shaped your childhood?").
Thanks D!