Half-Blood Prince to Film in New Zealand?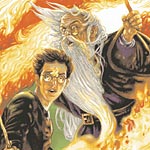 Sep 23, 2006
Uncategorized
This is North Scotland is reporting about possible film locations for Harry Potter and the Half-Blood Prince, and it may not include Scotland as in years past. In a piece citing the lack of Scottish funding as a reason for film production moving to other countries, the article also mentions the sixth Harry Potter film. Quotage:
The producers of the Harry Potter films, who have worked extensively in the north of Scotland, have also announced they are considering New Zealand as a location for the next in the series because the economy and climate are more agreeable.
Please note: This does not mean that they will not be filming the main bulk of the movie on the set in London, but is referring to the remote shoots and possible outdoor locations for HBP. We are trying to confirm this and will update when we can. As reported previously, producer David Heyman has said that we can expect to see Harry Potter and the Half-Blood Prince in theatres Fall, 2008.