J.K. Rowling Comments on Hagrid and Robbie Coltrane for ITV Special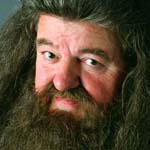 Sep 24, 2006
Uncategorized
Harry Potter author J.K. Rowling is among those interviewed for a special to be broadcast tonight on ITV about actor Robbie Coltrane. Robbie will be the guest for a personal, indepth interview on the South Bank Show where the actor discusses depression, fame, working with actress Emma Thompson (Professor Trelawney) and the impact she had on his career, as well as commenting on his role as Hagrid in the Harry Potter films. Jo Rowling is interviewed for this special and she talks about casting Robbie for the part of the beloved Hogwart's groundkeeper. Jo is quoted by the Manchester Evening News in this online preview as saying:
"When we came to the point where there was even a possibility of Hagrid appearing on screen, I do remember thinking, 'Well, that's Robbie Coltrane.'

"Because Hagrid is very loveable but he must, if he's to be plausible, have a centre of menace as well. Hagrid is physically very intimidating and, as the stories go on in the books, he has to be capable of real anger. And I felt that needed someone with real range, to give that sense of suppressed power.â€
Robbie responds:
"It is a fantastic idea that you might actually leave something that's worth leaving. Two billion people saw the Bond movies. The same sort of numbers watched the Harry Potter films, and they're good films. It's beautiful writing, it's beautifully imaginative stories, it's positive about being young. Nothing could be nicer than that.

"All these little children, you sign little pictures for them, they have them above their bed and wish their dad was more like Hagrid, because maybe their dad's not very nice. That's a fantastic thing to be involved in. And the residuals will put the kids through college.â€
The "South Bank Show" will air tonight on ITV1 at 11:10pm in the U.K and features comments from Emma Thompson as well as those from JKR mentioned above. Anyone who can tape this, please send it in! Robbie Coltrane will be seen again as Hagrid in the upcoming Harry Potter and the Order of the Phoenix which will be released next July. Thanks Ian!