Newsweek Interviews Emma Watson, Dan Radcliffe, and More on Set of "Phoenix"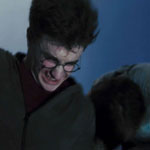 Sep 24, 2006
Uncategorized
Newsweek magazine has two new articles now online regarding a visit to the set of Harry Potter and the Order of the Phoenix. The first article, which mentions the brand new photos of Daniel Radcliffe (Harry Potter) and Emma Watson (Hermione) contained in the print copy of the magazine, also features a discussion of the dreaded "H" word or…hairstyles. Dan Radcliffe is quoted as saying about his new look in Phoenix:
"It looks great at the end of the fourth film, with sweat and blood matted into it, but we can't have every scene like that," he says, laughing. "And I like to imagine that Harry went home over the summer, angry, and chopped into it himself."
The second article features a "web exclusive" lengthy interview with actress Emma Watson about her role as Hermione Granger, where she notes that while she is not certain if she will still continue on with the role ("I'll just have to go with the flow and see what happens"), she does say that this fifth Harry Potter film has been stretching her work as an actress.
Daniel Radcliffe said that David Yates, the series' latest director, is really stretching him as an actor. Is that true for you, too?

"Yeah, definitely. David won't settle for anything that looks like acting [laughs]. What keeps coming up a lot is his search for truth in the characters and the performances. He really wants it to be real. The fourth film ["Harry Potter and the Goblet of Fireâ€] was sort of about all the tasks, fighting dragons, and all of that. This film is about Harry fighting his inner demons more than dragons. It's about the emotional journey. So I think David is the perfect director for that. Also, his previous work has all been quite politically based, like "Sex Traffic†and "The Girl in the Café,†and with this film you see much more of the world outside of Hogwarts. [The book and film deal, in part, with how the Ministry of Magic begins to restrict personal freedoms and civil liberties following a wave of attacks.] I think this film will be quite relevant to what we're all experiencing at the moment with all of the terrorist attacks. The film eerily coincides with all of that."
This issue of Newsweek will be on stands on Tuesday. Thanks AK for the heads up!