Jason Isaacs: "Lucius is Delicious"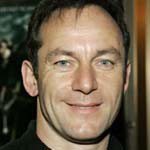 Sep 03, 2006
Uncategorized
In an interview in today's edition of the San Francisco Chronicle, actor Jason Isaacs (Lucius Malfoy) talks about his Showtime television series, "Brotherhood," living in San Francisco, the Rocky Horror Picture Show and his "arch portrayals of archetypal heavies with great hair." Quite naturally, this includes Lucius Malfoy:
Q: . . . Were you surprised by how much your Harry Potter character took off? People love Lucius Malfoy.
A: People always love the bad guys. And Lucius is rather delicious. He delights in his power, and the audience delights in his delight. Also, when you've built someone up to be so unbelievably supercilious and arrogant, there's pleasure in seeing him humiliated and brought down a peg or two.

Q: Plus he's pretty.

A: I like to think so. When I have my costume on, I imagine myself to be this great supermodel beauty. And then I see this hideous old man in a wig.

Q: Oh, no, no, no. Just no. The campy villains you play — the Captain Hooks and the Lucius Malfoys …

A: They're half a step away from drag queens, let's face it.