Lord Voldemort: Top Literary Villain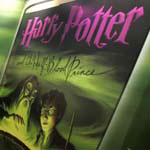 Sep 04, 2006
Posted by SueTLC
Uncategorized
Lord Voldemort is Tops!… well, is the top Literary Villain that is, as the results of the Big Bad Read have now been revealed. Earlier this year we told you about a poll that Bloomsbury had where you could vote for your favorite literary villian. He-Who-Must-Not-Be-Named, who faced stiff competition from others such as Sauron from The Lord of the Rings, and Count Olaf from the Lemony Snicket series, took top err honors as over 16,000 votes were cast in the poll. Author J.K. Rowling is quoted as saying:
"I am thrilled and honoured beyond words that Lord Voldemort has been voted best villain in the BigBadRead poll.

"I am not sure how he would react to knowing that he had won a Muggles' unpopularity poll. A mixture of pleasure that you recognised his power and menace, coupled with fury at your nerve at mentioning his real name, I think. His author, however, is absolutely delighted."
The top ten book baddies are:
TOP TEN LITERARY VILLAINS

1.Lord Voldemort Harry Potter series JK Rowling
2.Sauron The Lord of the Rings Trilogy JRR Tolkien
3.Mrs Coulter His Dark Materials Sequence Philip Pullman
4.Lex Luthor Superman Graphic novels DC Comics
5.The Joker Batman Graphic novels DC Comics
6.Count Olaf A Series of Unfortunate Events Lemony Snicket
7.The Other Mother Coraline Neil Gaiman
8.The White Witch The Lion, The Witch and the Wardrobe CS Lewis
9.Dracula Dracula Bram Stoker
10.Artemis Fowl Artemis Fowl Eoin Colfer
hmm Congratulations Lord Voldemort?