New OotP Filming Report at King's Cross Station in London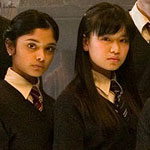 Sep 04, 2006
Uncategorized
There is a new filming report now online for Harry Potter and the Order of the Phoenix, which took place yesterday at King's Cross Station in London. This report details the filming of the scene when Harry and Company go to Platform 9 3/4 to leave on the Hogwarts Express. Quotage:
"Moody, Tonks, Shacklebolt, and the Weasleys escort Harry; black dog arrives; Moody is cross. Daniel Radcliffe, Emma Watson, Rupert Grint, Bonnie Wright, James & Oliver Phelps, Julie Walters, Mark Williams, Natalia Tena, Brendan Gleeson, and George Harris came back to the station to actually shoot the scene. Also at that time, Hedwig, Crookshanks, Pigwidgeon, and Sirius (the dog) made their grand entrances, accompanied by their respective trainers. (Interestingly, the two rats that play Scabbers and their trainer were also on set, but weren't included in the scene.)"
To read this entire report, click here. Please note: A caution warning for those wishing to avoid spoilers, as there is a mention of something apparently included in the scene that is not included in the book. Thanks to Veritaserum!