Cast Watch: Julie Walters, Dan Radcliffe, Brendan Gleeson and Chris Columbus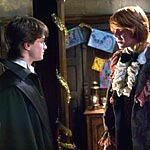 Apr 27, 2007
Uncategorized
Actors from the Harry Potter series have been busy lately; here are a few updates on the projects they have been working on.
Actress Julie Walters (Mrs. Weasley) will be playing 'TV standards campaigner' Mary Whitehouse in a film for BBC Two later this year. Mrs. Walters said she was "…very excited to be playing Mary Whitehouse and to be looking at the time when she attacked the BBC and started to make her name.†"Filth: The Mary Whitehouse Story†will take place during the 1960s when the activist began complaining "…vehemently of the increasing "blasphemy, bad language, violence and indecency" she saw on television, and became the first general secretary of the National Viewers and Listeners Association in 1965.â€
Also set in the 60s, "December Boys,†the new film staring Harry Potter actor Dan Radcliffe, has been given a US release date of September 14, 2007. Radcliffe's first non-Potter film since he started the series in 2001, "December Boys†follows four orphan teenagers during the 1960s living in a Catholic convent on the Australian outback. Variety reports, the Australian produced film has found Warner International Pictures along with Village Roadshow to distribute the film domestically. Radcliffe will be seen earlier this summer in the fifth film of the Harry Potter series Harry Potter and the Order of the Phoenix on July 13.
The actor who played Mad-Eye-Moody in Harry Potter and the Goblet of Fire, Brendan Gleeson, is teaming up with his co-stars Clemence poesy (Fleur Delacour) and Ralph Fiennes (Lord Voldemort) from GoF on a film called "In Bruges,†currently wrapping up filming this month in Belgium. Expect his action thriller at the end of the year. Mr. Gleeson is also set to take on the role of WW2 leader Winston Churchill in the film "Churchill at War†for HBO.
'Lightning' seems to have struck Harry Potter and the Sorcerers Stone and Harry Potter and the Chamber of Secrets director Chris Columbus who is currently in talks to direct "The Lightning Thief,†the first novel in Rick Riordan's mythological "Percy Jackson and the Olympians" book series.
Thanks to everyone who mailed in!