EA Games Set Report: A New Visit with the Makers of Harry Potter Video Games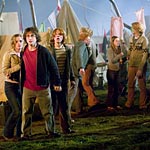 May 04, 2007
Uncategorized
Last August, the Leaky Cauldron made a visit to the Electronic Arts company in England to learn about the new Harry Potter and the Order of the Phoenix video games. Recently a second opportunity was made available to various fan sites, and Donna Hosie made a return trip to visit with the people at Electronic Arts about their new game and all the many new things in store for fans. Along with this cool poster that you will see on the cover of the boxes for the game, and new screen images including these of Dumbledore, Snape, the Trio and McGonagall, Dumbledore in the Ministry, and the Trio, we have a new report from Donna which you can read via this link.
In the first installment of a two-part report, we learn details such as fans will finally hear the lovely Hedwig's Theme music in the game, that over 85 locations in Hogwarts have been created from the movie blueprints to be used in this game, and "there are 60 missions for the gamers to complete (one example is finding murtlap essence for Harry's hand), and much more.
If you missed it previously, EA released a new trailer for this game which you can see here in our video galleries; screencaps here; screenshots and previews from the various game platforms galore, here.The Harry Potter and the Order of the Phoenix video game is due to be released June 25, and will be released on the PS2, PS3, PSP,GBA, PC, Nintendo DS, Xbox 360, and Nintendo Wii platforms.