J.K.Rowling, Emma Thompson, and Julie Walters Women We Love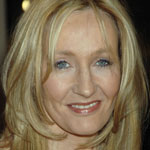 May 09, 2007
Uncategorized
The Daily Mail on Sunday You Magazine recently celebrated 25 years in publication and featured "25 Women We Love." Included in this list were Harry Potter author J.K. Rowling, actress Emma Thompson (Professor Trelawney), and actress Julie Walters (Molly Weasley). Of JKR the magazine noted:
Our admiration for J K Rowling is not just based on her own magnificent rags-to-riches story (penniless single mum becomes the first writer to become a US-dollar billionaire, and the only British woman on the Forbes 2007 list of the super-rich) but also on the way that she has changed the world's reading habits.

Literary snobs might question her place as Greatest Living British Writer (the title was conferred on her by The Book Magazine last year) but anyone who can make reading cool among young boys deserves our eternal gratitude.

Private – and sometimes a little prickly – Harry Potter's 41-year-old creator is a world-wide phenomenon who has raised our national morale and our children's reading age.

"I try to strike a balance between being very grateful for what has happened — because I am so hugely grateful for it — and I am terrified of hubris because I think it could all go wrong tomorrow," she says.
To read the entire article, click here.