Beep, Beep! The Scholastic Knight Bus Tour Launches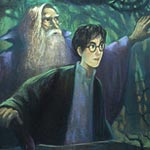 Jun 01, 2007
Uncategorized
Beep Beep! The Scholastic Knight Bus tour launches today in New York City, and we now have our first look at the big purple bus that will be making its way across the country to help promote the release of Harry Potter and the Deathly Hallows. Update: Scholastic has now uploaded more photos of the interior of the bus, and a "tracking map" of the bus tour at this link. As we told you previously, this bus will be stopping at 37 libraries across the US (schedule here), and fans are invited to come aboard the triple decker bus, and record a 20 second video message about their feelings on the Harry Potter series. As seen on the Today Show (Update: We have the video for download here in our galleries), the bus will be departing soon, and the US publishers are very excited about this tour.
"We know that one of the most incredible things about Harry Potter is the amazing discussion that it ignites among fans of all ages,†said Lisa Holton, President of Scholastic Trade and Book Fairs, Scholastic. "The Knight Bus tour is the perfect way to let fans from across the country share their Harry Potter experience as they await the conclusion of this remarkable series.â€
TLC will have complete coverage of this event today as well. If you are attending any of the Knight Bus stops, please send in your reports and photos to staff@the-leaky-cauldron.org.