New OotP Video Game Developers Diary; Footage of Potter Actors Recording for Game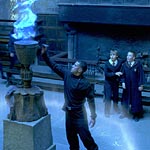 Jun 07, 2007
Uncategorized
Along with the video from EA we showed you last night, IGN has a new video online, featuring the process of the actors recording their voices for the new Harry Potter video game. This trailer features interviews with the developers of the game as well as studio footage of "Order of the Phoenix" film actors Bonnie Wright, Katie Leung, Tom Felton, Rupert Grint, James and Oliver Phelps, Matt Lewis and more during the recording process.
The Harry Potter and the Order of the Phoenix video game will be released on the PS2, PS3, PSP, GameBoy Advance, PC-DVD, Nintendo DS, Xbox 360 and Wii Platforms, June 26th.
Thanks to Jackie and dynamo for the heads up!