Katie Leung Talks "Order of the Phoenix," Romance and Magic in New Interview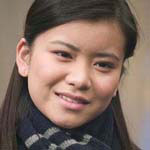 Jun 16, 2007
Uncategorized
The Scotsman is featuring a brand new interview with actress Katie Leung, Cho Chang in the Harry Potter films, where she discusses her newfound fame since being cast in Harry Potter and the Goblet of Fire, what she wants to do in the future and her new turn as Harry Potter's love interest in Harry Potter and the Order of the Phoenix. According to Miss Leung, the kiss, to be seen my millions, was not as effortless to film as it appears on screen:
"Of course I was nervous about it," she says, her soft tones betraying a Motherwell twang. "I blame it on the crew because they made it impossible for me to forget. Every day, somebody would come up and say things like 'Are you looking forward to it?' Or 'Euwww, it's going to be really wet!'"
Relating similar feelings from co-star Dan Radcliffe, she explains that "He admitted that he was nervous too, which made me feel better because I was a bag of nerves."
Magic is another subject discussed in the article. Miss Leung feels that certain spells from the Harry Potter series would be very helpful in real life as well as feeling that a certain element of magic was with her when being cast as Cho Chang.
"Of course I think it's true," she grins. "When I beat all of those other girls to get this part, that felt like pure magic. I couldn't believe it was happening, so when it did, it felt like fate."
Harry Potter and the Order of the Phoenix will be released in the US on July 11.