PotterCast 95: Tucson, Arizona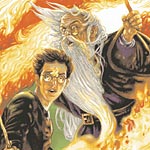 Jun 26, 2007
Uncategorized
PotterCast 95 trucks on (with a new truck) to Tucson, Arizona, the next stop on our summer tour for PotterCast, our Harry Potter podcast! To listen, just hit the "Play" button on the right side of the page (—>), or use iTunes, or direct download.
Live from Tucson, Arizona:
– The big 5 questions: Harry will Live!, Trust Snape, Harry is not a Horcrux, Harry will not return to school, We will go behind the veil?
– Will Hermione take her N.E.W.T.?
– Stump John Noe
– PacMan has nothing on the Death Eaters
– The Sun is Hufflepuff
– Helga Hufflepuff and the House Elves (again)
– A third Prophecy?
RT: 0:59:58
Editor: Stede Bonnett
PotterCast's Summer of Seven Tour
HarryPotterSeven.com
Harry and the Potters
Podcast Alley
Digg
Direct download (26 MB).
Direct download low-bandwidth (7 MB).
To see photos from this live PotterCast, go here in our Image Galleries! If you have photos from the event that you'd like to share, please email us at [email protected]
Remember you don't need an iPod to listen. Listen easily on iTunes, which you can download and install here, by clicking here to listen, or you can just use the streaming Flash player at PotterCast.com or just on the right side of this page. Discussion of the PotterCast is right here. Enjoy!