Deathly Hallows Autograph Contest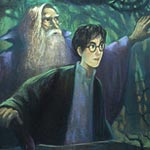 Jun 27, 2007
Uncategorized
Our latest contest is online! Here is the rundown on the Deathly Hallows Autograph Contest!
It's almost here!! The last book will be hitting book stores VERY soon. We all know what we would write to Jo… but what would you like her to say to you? This challenge is to create the ideal inscription for your new book. That way, if you have the opportunity to get your book signed, you won't frighten her by being unable to utter anything but a long, loud SQUEEE!!! And if you don't have the opportunity to get your book signed, you might find solace in winning this contest!
Entries will be considered for the following awards: Most Humorous and Most Inspirational.
In order to enter, you can write a fifty word or less inscription you would like to have Jo sign your book with and submit it to [email protected] by midnight (EST) on July 11, 2007. The entries will be judged on the works overall creativity; their spelling, punctuation, and grammar will also be considered. Please, one entry per person and be sure to include your Leaky Lounge name as well as first and/or last name you'd like to be known as. For complete rules and information head over to the Contest page and if you have any questions, or would like to discuss this Contest, please come to the Contest Corner Forum of The Leaky Lounge.
Since our Contest staff can't enter, we thought we would give you a few samples of what we are looking for:
To Bethany, I hope you're able to accomplish everything you set your mind on and able to reach your goals in life. Don't give up and don't get down if things don't work the way you wish they would. Persevere! J.K. Rowling.

Dear Lily, Since meeting you I've felt such a personal connection! Please take my phone number and email, we simply must keep in touch! Love, Jo.

To Kelly—Don't let the muggles get you down. My best, Jo.

Chase your dreams, Beat the odds, Keep your faith, Seek your gold! J.K. Rowling.
Good luck to all!