PotterCast's 100th! Live "In the City of Angels"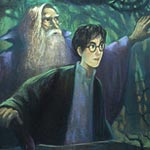 Jul 05, 2007
Uncategorized
It is this editor's honor to announce that the 100th episode of PotterCast is now live! We're coming to you from Los Angeles, California, the 'city of angels,' which is the next stop on our summer tour for PotterCast, our Harry Potter podcast! To listen, just hit the "Play" button on the right side of the page (–>), or use iTunes, or direct download.
Live from Los Angeles, CA:
– Five questions: Harry will Live!, Trust Snape, Harry is NOT a Horcrux, Harry will not return to Hogwarts, We will go behind the veil?
– Never tickle a sleeping dragon. No, really.
– A massive duel takes out half of our audience.
– We hear every theory on the map.
– Harry and Voldemort are in the gold dome of love and phoenix song.
RT: 1:03:55
Editor: Stede Bonnett
PotterCast's Summer of Seven Tour
HarryPotterSeven.com
Harry and the Potters
Podcast Alley
Digg
Direct download (28 MB).
Direct download low-bandwidth (7 MB).
To see photos from this live PotterCast, go here in our Image Galleries! If you have photos from the event that you'd like to share, please email us at [email protected]
Remember you don't need an iPod to listen. Listen easily on iTunes, which you can download and install here, by clicking here to listen, or you can just use the streaming Flash player at PotterCast.com or just on the right side of this page. Discussion of the PotterCast is right here. Enjoy!