J.K. Rowling Visit to Canada October 23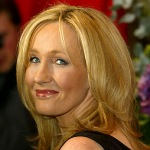 Sep 17, 2007
For those disappointed that they will not be seeing Harry Potter author J.K. Rowling on her Open Book Tour next month, fear not! Fans now have another chance to see our favorite author as there is news today that Jo will be appearing in Toronto, Canada on October 23.
The Globe and Mail reports that a new contest is being launched TODAY via Canadian Harry Potter publisher website Raincoast. The paper states that Jo will be appearing "at the Wintergarden Theatre in downtown Toronto. It's an all-ages event hosted by Toronto's International Festival of Authors and Rowling's Canadian publisher, Vancouver-based Raincoast Books. Ms. Rowling will read from Harry Potter and the Deathly Hallows, entertain questions from fans and autograph complimentary copies of "Deathly Hallows." This venue has 950 seats, and pairs of tickets will be made awarded each day to fans on-line. They're asked to go to www.raincoast.com/harrypotter/ where an entry form and rules are posted. From these submissions, 10 pairs of tickets will be chosen at random daily."
TO ENTER CLICK HERE.
UPDATE: Raincoast let us know they have now updated their blog with more on this event, including this following quote:
"J.K. Rowling has always given priority to her fans", said Allan MacDougall, CEO of Raincoast Books, "and we and the IFOA have tried to plan an event that reflects her values. The Winter Garden event will be intimate, interactive and something that her Canadian fans will never forget. We are thrilled to have her in Canada again."
Good luck to all who enter!