First Look: Trailer for the "Harry Potter and the Order of the Phoenix" DVD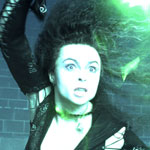 Sep 28, 2007
Uncategorized

We have a real treat for you today in the form of the brand new trailer for the upcoming Harry Potter and the Order of the Phoenix DVD. In this new trailer you can see new footage of behind the scenes looks at things such as the creating of the Centaurs and Neville's Mimbulus Mimbletonia plant among others. You can see the OotP DVD trailer here in our galleries, or via our YouTube channel. Enjoy!
Also, Warner Brothers will be launching an extensive marketing campaign for the release of the Order of the Phoenix DVD, including ads on ABC Family Channel, MTV, and features in Entertainment Weekly and People magazine, so be sure to keep your eyes peeled for those things due in the upcoming weeks. In addition to all five of the High Definition Harry Potter DVDs and special Box Set which we told you about previously (available for pre-order via our Cauldron Shop), WB will also be releasing a special Harry Potter Interactive DVD Game. You can now see new advertisements for this, which include a peek at some of the screen shots of the game, here and here.
The Harry Potter and the Order of the Phoenix DVD will be released on November 12 in the UK, and on December 11 here in the US.
Thanks much to Filk!