The New and Improved Order of the Phoenix Countdown Clock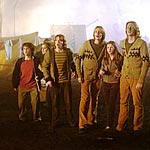 Jan 10, 2007
Uncategorized
We have made a HUGE update to our Harry Potter and the Order of the Phoenix countdown! Firstly, it now features images from the film; secondly, you can choose your own background; third, you can choose the countdown date based on your country. If you were already using the countdown on your Web space or MySpace, you should notice that it has automatically changed to the new version (you can get code to the old one, if you liked it better, at the bottom of this post). Our newsreader feature is still in tact, so you can still use the countdown to get your movie headlines.
Currently, this newer version is only available for the Web and MySpace – we will be releasing corresponding widgets and desktop items very soon and will keep you updated!
This was designed and created by our new Flash guy, John Holt, who's been doing awesome work for us ever since he came along; thanks, John!
Here it is:
You can get the code for inclusion on your own site by visiting this page, clicking the mini countdown now available on the main page, or by simply copy and pasting the following text into your layout (Note: add it to your MySpace account, you add the code for it to a line in your profile):
~*~
The following versions are only available in the old version of the countdown but will be updated ASAP.
Computer:
Widgets:
This countdown is available as a widget on Yahoo!Widgets (Info,
Download – Mac and Windows friendly, though you need Yahoo!'s widget engine for it to work) and for Apple's Dashboard (Info, Download; Mac OS X 10.4.1 or later).
Desktop:
Windows users can have this on their desktop by following directions below:
–Right-Click and Save-As on this link to download the item.
-You will be prompted, "Do you want to add an Active Desktop item to your desktop?" Answer Yes.
-On the next screen, click "OK" to continue to add the countdown to your desktop. (Note: If the synchronization "fails," don't worry; it is not necessary. The Flash in the file will handle the updates.)
-The countdown should now appear on the desktop. When it does, feel free to move it to where you'd like it to live by clicking and dragging.
-To close it, hover your mouse on the top border, and an "x" will appear on the top right side; click the "x" and the countdown will close.
-If you'd like to bring it back up after closing it, right-click your desktop and select "properties," then "Desktop," and then the "Customize Desktop" button. Select the "Web" tab, check the checkbox next to the item named "LeakyNews," and continue to press "OK" until all windows are closed.
Enjoy!
~*~
To use the old countdown on your Web space or MySpace, use the following code. To add it to your MySpace account, add it to a line in your profile – enjoy!