Independent Booksellers Face Major Retailer Pricing for Book Seven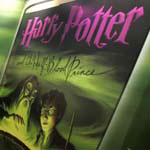 Jan 12, 2007
Uncategorized
Despite a lack of a definitive release date, let alone a set price, several independent booksellers have said they will not be stocking Harry Potter and the Deathly Hallows because they will be unable to make a profit. Facing stiff competition from major retailers who can offer a more competitive price, as well as deep discounts at places such as the supermarkets, the Telegraph reports that up to a quarter of independent booksellers will not carry the final book in the Harry Potter series.
Charles Hampton of Boarderman's bookshop in Bishop's Stortford said: "We made a loss on the last one and I am not prepared to make a loss on this one."

He claimed that some outlets were able to sell Harry Potter books for £3 less than he was able to buy them for."
However the paper goes on to note that a majority of the independent stores would stock the book "in order to retain customer loyalty."
A Bloomsbury spokeswoman said: "We don't give extra discounts on Harry Potter to anybody. We are the largest independent publisher left in the UK and we will do everything we can to support independent bookshops."
At last word, J.K.Rowling was still writing Harry Potter and the Deathly Hallows, and no release date has yet been announced.