First Look: DA Logo, New Thestral Cards, New OotP Products and More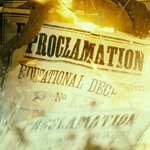 Jan 18, 2007
Uncategorized
We have a bit of a treat for you tonight as we have a great deal of Harry Potter and the Order of the Phoenix product news, including our first look at the Dumbledore's Army logo. Thanks to TLC reader James who sent in great scans from an industry magazine, you can see several new products and photos of the Trio, as well as the first glimpse of new cards and stickers, including ones of the Thestrals, a startling Death Eater card, Ministry of Magic (with Fudge and Umbridge), as well as a glimpse of the new coloring and sticker books.
We also can bring you a rather lengthy breakdown of some of the new products due to be launched. Among the many highlights are:
Lucius Malfoy Death Eater Mask with "voice changing feature" and interactive wand. !
Deluxe Hogwarts Great Hall playset which opens out to more than two feet.
Stackable Tower Playsets of the Room of Requirement and the Gryffindor Common Room.
Talking ten-inch scale Dobby the House Elf "featuring authentic movie dialogue sound effects."
Harry Potter and Draco Malfoy Quidditch Seekers with "signature wand remote controls."
New Edition of Harry Potter Scene It, featuring all new movie clips and a flextime game board.
New Coloring, Sticker and Dumbledore's Army book (the latter is described as a "guide to Hogwarts, Harry and more").
Dark Art Desk Calendar featuring Voldemort and his followers.
New Voldemort, Bellatrix Lestrange and Sirius Black Costumes.
New Dobby and Dumbledore masks.
Magnetic bookmarks, Calligraphy brush sets and journals
New Badges, Bookends, Snowglobes, Keychains, Mugs and Art Prints
Phew! The first big wave will launch by early June, with a second batch due in September of 2007. You can see the entire series of scans here in our galleries.
Harry Potter and the Order of the Phoenix will be released in theaters July 13.
Thanks very much to James!