JKR on Forbes Wealthiest Women in Entertainment List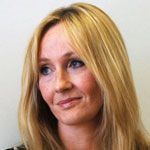 Jan 18, 2007
With a new year comes a whole new series of lists from Forbes magazine, which has just released their "20 Richest Women in Entertainment" list. Harry Potter author J.K.Rowling is ranked at number two on the list, behind Oprah Winfrey. According to the magazine, our favorite author :
J.K. Rowling
Rank: 2

Net Worth (in $ millions): 1,000

Age: 40

Marital Status: married

Kids: 3

Source: books

The one-time single mom on welfare is the brains behind Harry Potter, one of the most successful book franchises in history. The sixth installment, Harry Potter and the Half-Blood Prince, was the fastest-selling book in history, according to Guiness World Records. The film series–from which Rowling enjoys a cut of royalties and merchandising–has also proven astoundingly successful, with the total gross for the four films already released topping $3.5 billion. Rowling is the only career author on Forbes' Billionaires list.
Cable channel E! Entertainment will air a one hour special about this, Saturday, January 20 at 6:00 pm (ET).