PotterCast 73 Online At Last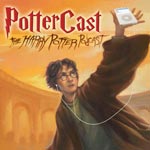 Jan 23, 2007
Uncategorized
It's the little show that could: after being lost in a chipwreck, our recreated, resuscitated 73rd episode of PotterCast, our Harry Potter podcast is up. In it, more on your favorite Deathly Hallows theories from last week, an unexpected Canon Conundrums and much more. To listen, just hit the "Play" button on the right side of the page (—>), or use
iTunes, or direct download. Also:
-We go back in time to talk more about the time turner theory in episode 72; your blogs, your comments, your emails and your reactions, all in our wrapup.
-Canon Conundrum: Why did Voldemort target Amelia Bones and Emmeline Vance? (Religion is delayed, and we'll explain why.)
-An interview with Francisca Solar, a Harry Potter fan and fanfiction author from Chile who is now contracted to write her first original novel with Random House. (Read more on the BBC)
-An appearance by the Stay Puft Marshmallow Man
-Emmeline Vance is to the Prime Minister as Arabella Figg is to Harry?
-Sue – surprise – pushes a Hufflepuff connection in the Canon Conundrum
-Your bookstore stories
-A new blog challenge winner; this week's blog challenge it the same as last – spread the word and stop the book seven misinformation
-YouTube videos discussed in the wrapup: Book seven release date and They're Called Thestrals
-Don't forget to Digg!
Direct download (38MB).
Direct download low-bandwidth (7MB).
Remember you don't need an iPod to listen. Listen easily on iTunes, which you can download and install here, by clicking here to listen, or you can just use the streaming Flash player at PotterCast.com or just on the right side of this page. Discussion of the PotterCast is right here. Enjoy!