Potter Books Slated for Recycling Stolen from Warehouse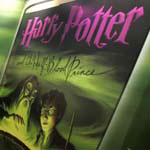 Jan 24, 2007
Uncategorized
Reports are online today that some 3,000 Harry Potter books due to be recycled were stolen from a warehouse in Wales. Thieves apparently broke into a recycling company and took two containers of the special Harry Potter schoolbooks, which were published for charity several years ago. NewsWales reports:
"They went missing in a burglary at The Recycling Company in The Docks, Port Talbot, sometime over the weekend of January 20th-21st 2007, when roller shutters were forced and two pallets containing Comic Relief Harry Potter School Book Packs were stolen.

Each pack consists of a red-coloured plastic satchel containing two booklets by author JK Rowling, Fantastic Beasts and Quidditch, which were previously on sale to raise money for the Comic Relief appeal."
No word if mere Muggles or Magical folk were involved, or it was perhaps something more nefarious involving Death Eaters. Sales of Fantastic Beasts and Where to Find Them and Quidditch Through the Ages have raised millions of dollars for the Comic Relief charity.