More Info on OotP Action Figures, Great Hall PlaySet and More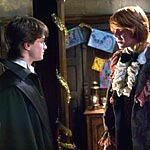 Jan 25, 2007
Uncategorized
We have more information about those new Harry Potter and the Order of the Phoenix products we told you about last week, as these items are now being previewed at the British Toy Fair in London, England. Action-Figure.com reports more about the new action figures due, including ones of Draco, Neville, Fred & George, Ron, Hermione, and Hagrid, along with some of the new stackable playsets. There will be a Gryffindor Common Room set (including a Ginny Weasley figure) as well as the Room of Requirement, which includes a Cho Chang figure as well. The Hogwarts Great Hall set is especially noteworthy, as the report says this set includes the following features:
"Twist the tower at the top, and hedgewick [sic] will fly around. Each playset comes with a wand. through the use of magnets you can use the wand to create 'magic'. Move it along the outside step and the doors will fly open, use it on the tables to get the tabel tops to flip, showing them bare and laden with food. The playset all folds up so that it looks as good from the outside as it does on the inside.
…

When stored away, the playsets are cylindrical, and what's great is that they stack, and over time as further playsets get released, you'll have built the entire of Hogwarts.

These other two playsets also come with a wand, that can activate all manners of features (flip the fire in the Grffyidor common room to see Sirius Black's head in the flames). Each will also come with a load of accessories, particularly the Gryffindor Common room."
For more, click here.