New Photos of Dan Radcliffe in "Equus"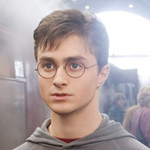 Jan 29, 2007
Uncategorized
There are some fantastic new promotional photos of actor Daniel Radcliffe (Harry Potter) from the upcoming stage production of "Equus" now online. You can see these stunning new photos of a decidedly grown-up (and nearly nude) Dan here (thanks to Jenna of DanRadcliffe.com for letting us host them while her server's maxing out). (Breathe, guys, breathe.)
Dan with horse
Horse picture #2
Dan as Alan with his girlfriend, Jill
Article
Update: Second Article Scan
Reports online say that his decision to appear nude both onstage and for these photos came easily to the Harry Potter actor, with the play's producer David Pugh noting:
"There was no hesitancy about taking off his clothes. He has a confidence in his own appearance. With the performances that I've witnessed, when that boy takes his shirt off, Harry Potter has flown out of Hogwarts for good."

The play's female director, Thea Sharrock, was impressed by his physique. Pugh told the Evening Standard: "We had never seen him with clothes off before. We all went, 'wow'. Thea went, 'Oh my God.'

"For her, there was a certain relief. When we did the audition we never thought to say, 'Would you go naked for us?' We were so overwhelmed with his talent that we set that aside."
As we've told you previously, Dan will be appearing in the play Equus starting next month in London on February 27, which also co-stars fellow Potter actor Richard Griffiths.
Thanks Jenna!