PotterCast 119: Bit-by-Bit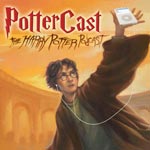 Oct 03, 2007
Uncategorized
October, the month of 'All Hallows' Eve,' is here as is the 119th episode of PotterCast, our Harry Potter podcast which is now available for your listening pleasure! To listen, just hit the "Play" button on the right side of the page (–>), or use iTunes, or direct download.
"Bit-by-Bit"
– Banning books.
– Chapter 1 sets a spooky tone for the entire book.
– Starts with Snape, who would have thought?
– What banned book are you going to read?
– We still can.. can.. can!
RT: 1:02:18
Editor: Stede Bonnett
Direct download (29 MB).
Direct download low-bandwidth (7 MB).
Remember you don't need an iPod to listen. Listen easily on iTunes, which you can download and install here, by clicking here to listen, or you can just use the streaming Flash player at PotterCast.com or just on the right side of this page. Discussion of the PotterCast is right here. Enjoy!