October Issue of Scribbulus Now Online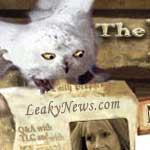 Oct 03, 2007
Uncategorized
The long awaited return of Leaky's premier essay project is now upon us with the publication this, the 19th Issue of Scribbulus! Leaky and the Scribbulus staff are proud to present you with the October issue, containing five wonderful essays for your reading pleasure. This issue contains a most personal account of a reader's journey to the seventh and final book, two very extensive looks at Professor Severus Snape, an exploration of the ending of "Deathly Hallows" and an emotional, yet humorous look back at one of everyone's favorite characters in the series.
Readers should be cautioned, a number of these essays do contain plot information and potential spoilers from the recently released "Harry Potter and the Deathly Hallows" novel. Those who have not yet finished the book, do proceed carefully. Enjoy!
"Choice or Chance? The Ambiguous Ending of Harry Potter and the Deathly Hallows" by Avogadro
"Virtue and the Viper" by Anne Arthur
"A Different Kind of Reconciliation" by Sarah J
"Harry Potter and the Deathly Hallows and Me" by Mary Wanguard
"Fred is Dead" by Calinnawkes
The next issue will be Issue 20, set to be released on November 1st. As we first announced a few days ago, the topic for this issue is "Changing Concepts of Characters." A call for papers on this topic is currently underway, with the deadline for submissions being October 15.
Further information on this call, including complete submission guidelines, can be found on the newly revamped Scribbulus section and, as always, further discussion can be found right here on the Leaky Lounge.