Dan Radcliffe One of Moviefone's 'Hot Actors Under 25′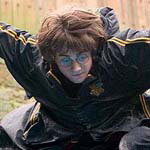 Oct 04, 2007
Uncategorized
AOL Moviefone has released their first ever list of "25 Under 25," a ranking of 'Hollywood's Hottest Young Actors,' and actor Daniel Radcliffe (Harry Potter) has been named among this year's chosen celebrities. Looking at individual accomplishments as well as past and upcoming projects, an industry panel chose these 25 celebrities which also include: Keira Knightley ("Pirates of the Caribbean" trilogy, "Atonement"), Shia LaBeouf ("Disturbia", "Transformers"), Abigail Breslin ("Little Miss Sunshine" and Jamie Bell ("The Chumscrubber," "Hallam Foe").
The article goes further into Mr. Radcliffe's career by noting:
What He's Done: Brought the world's most famous wizard to life in the 'Harry Potter' movies; currently stars in indie 'December Boys'
What's Next: More 'Harry Potter,' and a possible Broadway turn for his daring 'Equus' role, which drew crowds and raves in London.
Worth Knowing: 'Harry Potter' wasn't actually Radcliffe's first movie role—he played the son of Geoffrey Rush and Jamie Lee Curtis in 'The Tailor of Panama.'
Nadine Jolson, the Executive Director at Jolson Creative PR, gave an industry perspective on Dan Radcliffe and is quoted as saying: "He is aging brilliantly and he'll get better as he gets older. I can just imagine him in his 30s, 40s, 50s—smooth, dashing and very sexy. He's definitely here to stay." Congrats Dan!
Thanks to IdRatherNotSay for mailing!