Hey Jude… Wanna Be in a Harry Potter Movie?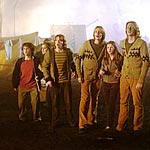 Oct 05, 2007
Uncategorized
MTV has a fun new video interview today with two of the UK's finest actors, Michael Cain eand Jude Law, who discuss the fact that they have never been asked to be in a Harry Potter movie. While promoting their new movie "Sleuth," they point out that "Ken" has been in the Harry Potter films, with Ken being "Sleuth" director Kenneth Branagh, who so memorably portrayed Gilderoy Lockhart in Harry Potter and the Chamber of Secrets.
Actor Jude Law (twice nominated for Oscars for his excellent work in "Cold Mountain," and "The Talented Mr. Ripley") says he has read all the Harry Potter books but joked he was too old to play Harry. Meanwhile Michael Caine (two time Oscar winner for "Hannah and Her Sisters, "Cider House Rules") says the Harry Potter films aren't his sort of movie. He says he has never been asked to be in the films, has not read the books or watched the movies, but jokes and says he better start watching them now that he is working for Potter producer David Heyman on a new film. To watch this interview, click here.( the scroll down to middle of the page).