J.K. Rowling, Emma Watson Attend Pride of Britain Awards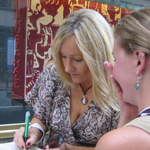 Oct 09, 2007
The first of the photos from tonight's Pride of Britain awards are now online, and you can see some early pictures of Emma Watson (Hermione Granger), and Harry Potter author J.K. Rowling (both wearing chic black outfits)here via WireImage. Additional photos of Jo (looking just gorgeous) here via the Associated Press, via WENN and via London Features International.
UPDATE: As we told you previously, JKR was to be given special recognition for her works of charity. Emma Watson's official website has just been updated with information that Emma presented Jo with this award, and that Jo had specifically requested that Emma Watson be the one to present the honor. Very cool. More info as we get it. A reminder that these awards will be broadcast tomorrow night in the UK on ITV1.
UPDATE #2 : Emma Watson CA let us know about some high res pics of Emma they have, here. Getty now has their photos of this event now online here as well.