New Book Written by J.K. Rowling to Be Auctioned for Charity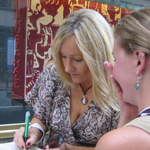 Nov 01, 2007
Uncategorized
Some amazing news this morning for you as author J.K. Rowling has announced on her website she has written a new book, however there is only one to be made available to the public, and it will be sold for charity. On her website, Jo states this new book is based on a tale that is mentioned in "Harry Potter and the Deathly Hallows." The book that is to be auctioned is one of seven handwritten by the Harry Potter author, the other six will be given to people she wanted to honor privately, with the final copy going on auction at Sotheby's in London on December 13th 2007. The book, leather-bound and embellished with silver and different semi-precious stones, "will be on display to the public for a short period before the sale, and catalogues will be sold, all profits going to the Children's Voice." Readers will remember this is the charity that Jo founded several years ago; more information on this group, here. The Children's Voice charity (formerly Children's High Level Group (CHLG)) aims to stamp out cruelty, neglect and abuse of young people, especially in Eastern Europe. JKR made a moving visit to the area several years ago, and has remained dedicated to helping these children.
Sotheby's has a short description about the book itself (Note: A special 48 page catalogue previewing this will soon be available for sale to the public and includes a message from Jo about the creation of the book). "Autograph manuscript of "The Tales of Beedle the Bard " translated from the original runes by J.K. Rowling. Individually handwritten and extensively illustrated by the author, c.160 pages written in an Italian hand-made notebook, bound in brown morocco embellished on upper cover by Edinburgh silversmiths Hamilton and Inches, with five individually hand-chased hallmarked sterling silver ornaments and mounted moonstones."UPDATE: Sotheby's has now officially released to the press three new photos here, here, and here.
Some additional information about this remarkable event can be found via the following :
(Please note, if you have not yet read the final Harry Potter novel, there are spoilers.)
SOTHEBY'S AUCTION HOUSE
he BBC now has video up of an interview with Jo, giving more details on this. To watch this video, click here.
Thanks to everyone who emailed!