Video Interview with JKR on New Book; Ordering Information for Preview Catalog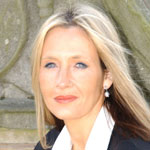 Nov 01, 2007
Uncategorized
Earlier today, author J.K. Rowling was interviewed by the BBC regarding her new book she has written for charity and more. You can now watch this video here in our galleries. In this video, Jo discusses why she is doing this book, mentions the Children's Voice charity that will benefit from the upcoming auction for the book and more. You can also see some nice footage of one of the copies of the book,as well as footage of the jewels being added to the cover of the books. In addition our hard working galleries staff now have the various preview photos and screencaps available for you hereUPDATE: Sotheby's has now officially released to the press three new photos here, here, and here.
Also, as mentioned in the news article below, the auction for this special handwritten "Tales of Beetle the Bard" book by J.K. Rowling will take place on December 13. The book will be on display as a preview, and Sotheby's has the hours where this preview will open to the public in London, England.
Sun, 9 Dec 07, 10:00 AM – 5:00 PM
Mon, 10 Dec 07, 9:00 AM – 4:30 PM
Tue, 11 Dec 07, 9:00 AM – 4:30 PM
Wed, 12 Dec 07, 9:00 AM – 4:30 PM
There will be a special 48 page commemorative catalogue about this book available to purchase via Sotheby's, with proceeds to benefit charity. The famed auction house describes this catalogue as containing "a message from the author about the creative inception of 'The Tales of Beedle the Bard' plus images from the manuscript itself. Also included is information about The Children's Voice charity, images showing the making of the manuscript and auction information for prospective buyers." The prices of the catalogue are as follows:
US Domestic: 16.00 USD
US Int'l: 16.00 USD
UK Domestic: 8.00 GBP
UK Int'l: 8.00 GBP
To order this catalogue, click here.