Twentieth Issue of Scribbulus Now Online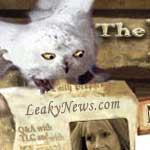 Nov 02, 2007
Uncategorized
This month Scribbulus, Leaky's premier essay project, has five new essays for your reading pleasure. Three address our November essay call "Changing Concepts of Characters." In the first of these essays, writer Mosaic reflects on Neville Longbottom's selfless bravery and how it affected the ending of "Deathly Hallows" in "More Than Revenge". In "Proven Wrong," RavenPuff tells us how another famous literary character helped her reconcile her negative opinions of Severus Snape. While Emma Zana offers her take on the ethics of a wide range of Harry Potter characters in "Harry Potter and the Distinction Between Good and Evil". In an additional essay, "Harry Potter ' Making a Difference," junior author HPhorsegirl draws parallels between Harry's fight against Lord Voldemort and our own fight against global warming. Finally, rounding out our five essays this month we have "What 'Wandering with Werewolves' Could Reveal: A Literary Expedition" written by Wagga Wagga Werewolf. In it, she shows how the Trio follow the seven steps of good research in their search for Voldemort's Horcruxes.
Our December essay call is on the subject of "Albus Percival Wulfric Brian Dumbledore" and we have extended the deadline from November 1st to November 10th to allow for responses to the recent news about Dumbledore. All of our essay calls for future months can be seen right here. Do keep in mind, Scribbulus accepts essays on any topic at any time!
You can find complete information on all of our essays, past and present, in our new Scribbulus Section. Also, be sure to participate in discussion of these Scribbulus essays here on the Leaky Lounge.
Enjoy!