New Contest for UK Residents to Win Part in "Half-Blood Prince"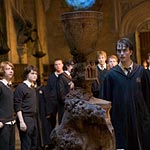 Nov 22, 2007
Uncategorized
Warner Bros has launched a new contest for residents of the United Kingdom to win a walk on part in the upcoming "Harry Potter and the Half-Blood Prince" film. Part of a special feature on MSN UK, this contest is open to residents of the UK only ages 12 years and older, where the winner will have "participation in a crowd scene." Further details of this walk on role in Harry Potter movie six are as follows:
Winner will participate in the Walk On Prize as an extra in a crowd scene which may or may not be a silent scene. There is neither a guarantee that the Winner will be able to distinguish himself/herself in the film footage, nor that he/she will be featured in the final cut of the "Harry Potter and the Half-Blood Prince" film which is always subject to creative approvals and the Director's final say. There is no guarantee that the Winner will meet or see Talent as part of the Walk On Prize."
You can enter via this link, with the competition running now through December 20. The contest is part of a special feature now open on MSN, that includes new wallpapers promoting the release of the Harry Potter and the Order of the Phoenix DVD in the UK, as well as older interviews and photos from the OotP premiere this summer. Be sure to check out two new games; one involving fighting the DeathEaters, and one that is called "Free Umbridge's Cats (yes,seriously) Enjoy! Good Luck to all who enter!
Thanks to Ryan and UHP !