PotterCast 124: We Miss Melvin Already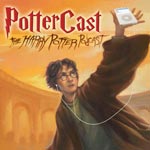 Nov 05, 2007
Uncategorized
This week, the 124th episode of PotterCast, our Harry Potter podcast, is back to its regular format with the latest in Harry Potter for your listening pleasure. In this episode, the PotterCasters theorize on the Dursleys in a new 'Canon Conclundrums' while our Scribby 5 girls talk about an essay from their 19th issue of Scribbulus. We continue our series of discussions on "Harry Potter and the Deathly Hallows" with fans in a new 'Bit-by-Bit,' where we sort out the many Harry Potters in the next chapter of the book. We also get into a moment shared by Harry in Luna from the "Order of the Phoenix" film in a new 'Phoenix Files' in addition to bringing you the latest "Half-Blood Prince" filming reports from our readers in the UK and much more. To listen, just hit the "Play" button on the right side of the page (–>), or use iTunes, or direct download.
"We Miss Melvin Already"
– It's Hagrid's hut, and other movie news.
– Film location reports from fans.
– Voldie actually does wear Prada.
– A bit or two about Harry.
– The "good" characters vs. "bad" characters and their choices.
– What happened to the Dursleys when they drove away?
– We're missing Melvin.
– Video Blog Challenge for ˜Jingle Spells.'
RT: 1:27:42/p>
Editor: Stede Bonnett
Scribbulus
Podcast Alley
Digg
Jingle Spells Wizard Rock CD
Direct download (40 MB).
Direct download low-bandwidth (10 MB).
Remember you don't need an iPod to listen. Listen easily on iTunes, which you can download and install here, by clicking here to listen, or you can just use the streaming Flash player at PotterCast.com or just on the right side of this page. Discussion of the PotterCast is right here. Enjoy!