Jason Isaacs Hopes to be in "Deathly Hallows" Film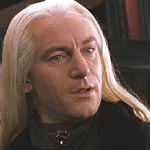 Nov 06, 2007
Uncategorized
Actor Jason Isaacs is the subject of a new interview with Liverpool magazine and mentions his hope that he will return as Lucius Malfoy for the film version of "Harry Potter and the Deathly Hallows." In a series of question and answers Jason, who is currently filming " La Conjurade El Escorial" in Spain, notes he is in this new movie "with puffy velvet trousers, a director who doesn't speak English, and a very itchy beard; new photos from a press day for the film here. Jason Isaacs also says he is awaiting news of his return to the Harry Potter films among other things. Some excerpts:
"The next thing I am up to is a lot of waiting: waiting to see if Brotherhood goes to a third season (it's up to the network-they own me for six years); waiting to see if "Stopping Power (a car chase film I starred in with John Cusack but that fell apart due to money trouble) starts again as rumoured; waiting to do publicity for "Good" a film I've just finished with Viggo Mortensen; waiting to see if I'm in Harry Potter 7 (I'm in the book but who knows what gets cut to make 900 pages into a film). Or none of the above. That's what's exciting."

"If I could rewind time, I'd stop trying to be dark and interesting and just decide to be happier. Have a lot more sex, travel more, watch less television¦avoid some of the worst 70s fashion aberrations."

"The things that always make me smile are my two little girls, Larry David, catching my wife welling up with tears while listening to tragically cheesy pop songs."

"If I had more time I'd have dozens of kids, build an orphanage, be a black belt, play the saxophone, freefall, learn Chinese, roam the world with 5 (British pounds),a penknife and some sticky backed plastic. Think of a better answer."
Thanks Cara!