In Style Magazine Feature on Emma Watson (Updated)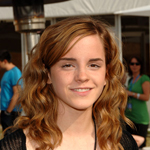 Dec 05, 2007
Uncategorized
The January 2008 issue of In Style magazine will feature actress Emma Watson. The Daily Mail has a preview of this new article that shows the Hermione Granger actress sporting a fifties style look in a series of new photos. Emma is quoted as saying she doesnt like working with a stylist before red carpet premieres ("Getting someone else to choose things takes the fun out of it,"), and she also mentions her new role in the upcoming BBC film "Ballet Shoes"
The teenager says she related to her character, Pauline Fossil, an orphan. She reminds me a lot of when I was younger' she said. "I was such a drama queen."
Also, In Style let us know they will soon have a new behind the scenes video of the photo shoot with Emma, and we will update with more when that goes online. As we reported previously, "Ballet Shoes" will air in the UK on BBC1 December 26. Emma will also begin filming again for "Harry Potter and the Half-Blood Prince" on December 18th. The UK edition of In Style magazine containing this feature on Emma Watson goes on sale later this week.
UPDATE: Thanks to EmmaWatsonFan.net who let us know they have scans from the magazine, here.
Thanks to In Style and Radcakesfan!